Used Bikes for Sale
These "Things on Wheels" are Available to pick up Today!! Interested in taking a test drive? Call us today and schedule an appointment!!

I will take the items down as soon as they have been purchased. If it is still up, consider it available.
If you want your scooter or moped available for sale on our site, please contact us. You will not have to deal with Craigslist and other places taking them down constantly. There is a much more selective market for yours to fit into on Motorbikesmn. The people who view our site are fans of scooters, mopeds, and motorized bikes. They usually get sold faster, and go for more because they buyers are people who love bikes as much as us!

For us to sell one for you, we only take 9.5% of the selling price. This includes storage, posting an add, pictures, basic maintenance, and more. **We will not sell anything for you without a title in your name, we are not going to put ourselves at risk for selling something stolen**

To have us post your add on this page and sell it yourself, it's only $0.99 for a limited time so get yours posted for a guaranteed 30 days now! No extra charge for pictures. If it is sold before a month passes, we can take it down but can not refund any part of that fee.
For security and spamming reasons, we will personally create and post your add for no additional charge. We want to make sure that this community stays free from spammers and contains no profanity or anything not safe for work.


PLEASE STAY INFORMED!
There is a difference between scooters and mopeds. The main differences are that scooters have a floor, enclosed engine, no pedals, and is 150cc's. Mopeds do not generally go over 50cc's, they generally have pedals to pop-start them, visible frame, and they usually have a bicycle style seat. There are many variations for scooters and mopeds and exceptions have been made to nearly every aspect of them. The Chinese making scooters and calling them mopeds is throwing a lot of confusion our way and it would be very helpful if you knew the differences as I do.
Why choose a scooter?
With scooters you can operate for pennies per mile. They are made with a relatively simple and economical designs, meaning that they have much less unnecessary parts than motorcycles and are fully automatic. Just twist and go. They are a like riding a bicycle, just without the pedaling. No clutch and no gears mean a smooth easy ride and a smaller engine saving you thousands on gas, maintenance, and repairs. No need to pay hundreds to have your carbs synced and cleaned or any of the other expenses associated with motorcycles. Having your carb professionally tuned and cleaned for a scooter can run as low as only $50 in some cases!!
Replacement parts are easy to find, tires are much much cheaper, they can still keep up with traffic, insurance is almost a non-existent bill, maintenance is close to none, they pay for themselves in fuel savings alone, and repair shops are considerably cheaper per hour compared to motorcycles. In short, Scooters are real money savers! Take care of yours and it will take care of you!
150cc's and higher have no trouble keeping up with traffic. 49cc's are more for intercity and neighborhood use because they do not go more than 30-35MPH in many cases.
Click on an image below to see more.
150cc Huanan 6 speed motorcycle.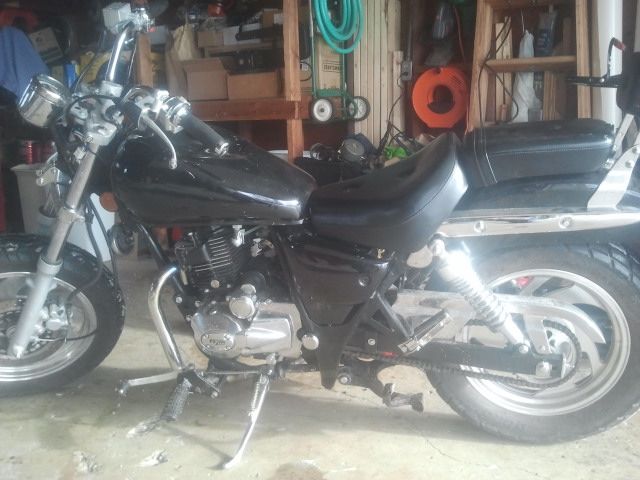 We can buy your scooter right off you but we will not buy your item if:
We may suspect it to be stolen. We will report these items to the police.
Has to much damage. We can usually fix most things but anything with major damage we are not interested in. Please be sure to get your item close to working before contacting us.
Is illegal
Cars, trucks, vans, etc (Exceptions are occasionally made)
Does not have a title

We reserve the right to deny or accept any items we choose.
=============
These items are pick-up and cash only items. Schedule a pick-up time for whenever is most convenient for you. there is no warranty, refunds, etc on pre-built/used "things on wheels". We are not to be held liable for any of the items on this page. Purchasing these items means you agree to hold all responsibility for anything in connection of these items. www.MotorbikesMN.com or anything/anyone in association is not to be held responsible for accidents, injuries, or any incident relating or regarding to any of the items.