Frequently Asked Questions!
Are these bikes reliable and/or safe?
The safety of these bikes greatly depends on the way they are built. Most people who build them on their own do not have very much mechanical experience and just want a quick, cheap ride. These people are usually 1st time builders also so they have never worked with these engines. This is where most of the complaints and bad reviews come from. Because we have built so many of these and use them almost daily them as our own bikes, we know what causes things to wear down over time and how our products really work. This lets us know what preventative maintenance and extras to add to the future bikes to keep them up and running for even longer! One of our customers, who uses his bike at least every other day, even attached a Burley behind his motorbike and pulls his kids along behind it, not at full speed of course. The kids love it and he has put easily over 100 miles on it. Even with the extra stress of pulling the kids on the engine, his motorbike still runs great. He had his bike built by us. Many people who have decided not to have one built by us and try it on their own, often come back to us to get their bike running properly. On the motorbike I currently ride, the one I put a few hundred miles on already, not once has my chain snapped off or my engine had problems.The only issue I had with it recently is I managed to pop a tire. I am so confident in my bikes, I use my personal bike as the bike people test drive!
Are they Street Legal?
These bikes are generally street legal. This, of course, depends on where you live or where you drive your motorbike. We encourage you to check your local area laws before driving one. You assume all responsibility by driving one. According to the Research Department Minnesota House of Representatives (Updated December of 2011),
A motorized bicycle resembles a bike but incorporates the capability of motorized travel. State law defines it as a bicycle propelled by an electric or liquid fuel motor that has an engine displacement of up to 50 cc and up to 2 brake horsepower, and is capable of a top speed of 30 miles per hour on a flat surface. Although it appears to be classified as a type of bicycle in law, pedals are not specifically required.10 Minn. Stat. § 169.011, subd. 45.
Regulations: Motorized bicycles and electric-assisted bicycles are regulated in a manner similar to motor scooters and motorcycles. Most of the same laws apply to motorized bicycles, with a few exceptions. A couple of regulations are specifically different for electric-assisted bicycles. Minn. Stat. § 169.223. Registration The vehicle must be registered, with an annual tax of $6. Minn. Stat. § 168.013, subd. 1h . The license plate must be displayed on the rear of the vehicle. Minn. Stat. § 169.79, subd. 3. A title is required. The vehicle is subject to the motor vehicle sales tax. Minn. Stat. §§ 297B.01, subd. 11; 297B.02.
This is one of those "law" that people rarely care about. Technically you are supposed to have a sales permit to have a garage sale and a burning permit to have a good sized bonfire but we have yet to see anybody arrested for having a garage sale. As long as you follow all the laws and drive responsibly, you should have no problems. We do not in anyway encourage breaking the law and we are not to be held responsible if you do it.
How do we assure quality bicycles with our prices this low?
The design of these bikes is so simple and Eco-friendly that we don't need to use unnecessary panels, equipment, parts, flashy features, or insane mark-ups in order to build a safe and functional motorbike. We also get our engines and parts from the source so we do not need to pay marked-up prices so we can flip that right back into saving for our customers. Many of our visitors give generous donations which reduce our overhead costs. If you would like to help out your fellow biker, please click
here!
If I am not sure about a motorbike, would it be alright for me to come out and take a test drive on a demo bike?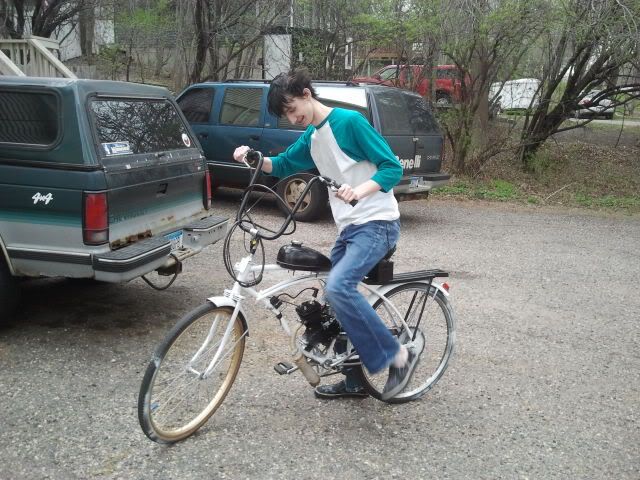 Yes. Anybody is welcome to take a test drive on one of our motorized demo bikes. Taking a test drive means you agree to the following terms/conditions:
You assume all responsibility while driving, we are not to be held liable for any tickets, accidents, etc
If in any way, something either on our bikes or any of our equipment gets broken/damaged/missing/etc, you are responsible to either replace it or pay to have it fixed, even if the accident/incident is not your fault. In other words, you are responsible to return the bike exactly the way you left with it. This excludes the amount of fuel in the tank.
You are 18 Yrs of age or older with a valid state I.D. or Drivers License.
You have collateral to exchange while in possession of one of our bikes. Car keys, smartphones, I.D.'s and Drivers Licenses, etc... Due the the rising number of bicycle thefts, we have put in place, this precaution to make sure our bikes are returned to us. If you drove alone, we will allow you to keep your collateral. Having your car parked here is enough. We apologize for any inconvenience.
Don't let these conditions scare you off from riding one. They are incredibly enjoyably, easy to ride, and very durable. For something to break requires tremendous force. We have done quite a few different durability tests and they started right up after and ran just fine. As unfortunate as it is, one of our customers was riding his bike when a car pulled in front and struck him. Fortunately he suffered no serious injuries and amazingly, he got right back on the bike, which started right up, and kept riding. An internal inspection later revealed little to no damage. In summary, to break our motorbikes, you pretty much have to try to break them. Bikes are more durable than one might think. Remember, scratching the paint does not affect the performance. Don't try to scratch it but don't worry if you do. We would rather have you in one piece than our bikes in one piece so if you have to ditch it to save yourself from a crazy driver, go right on ahead. Our new location in Excelsior MN is on a long private circle so plenty of room for riding safely without the traffic.
How do I start mine?
These have multiple ways of being started. Because these have a clutch, and do not have an electric start, simply pedal as you would a regular bike. You must be going 6-10MPH minimum to start the bike. When you are ready to engage the engine, disengage the clutch and the engine will pop start itself. The clutch on our standard bikes is the same thing as a brake handle so its always in reach and easy to operate. The other option is to add a pull-start. With this option you can still pop-start it but you don't have to be moving to get it started.
Can I ride at night?
For night riding, please check your local area laws in regards to these types of vehicles. As far as physically being able to ride at night, The engines provide an extra 7.5v/.5a to work with. This extra power can be wired into head and tail lights quite easily. a typical flashlight in only 3v of power from 2 batteries. Having your headlight wired directly into your engine saves you money on expensive lighting kits and batteries. Our engines offer double the power of a traditional flashlight to keep your headlight and taillight running bright.
How much do these bikes Weigh?
Every bike is different. The weight depends greatly on the type of frame used. Steel frames weigh more than aluminum. After the engine is installed, and the tank is filled with gas, it weighs about 20 lbs more. That is a lot less that you might think it weighs. Our customers are often very surprised at how little it weighs when they pick it up for the first time. Our head mechanic, Nate, is only about 120lbs and 5'6", clearly not a huge or buff guy. He can lift one onto the back of a pick-up truck without any trouble.
How portable are these bikes?
These bikes will fit on any standard bike rack, An upright rack would be best due to the fact there is usually gas in the tank. If you do not have a bike rack, Our standard package fits into the back of vans without to much trouble. On at least one occasion we have even fit one into the trunk space of an '06 Ford Taurus. They are also not as heavy as one would expect so getting them into the vehicle is usually not an issue.
What type of fuel is best for my bike?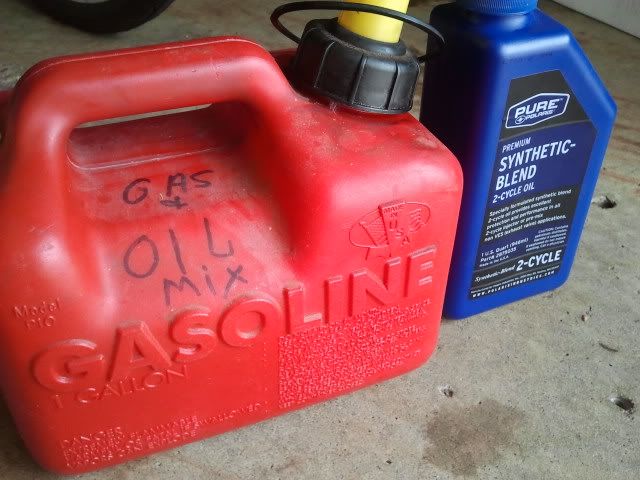 You do not need any special types of gas or any high-end expensive synthetic oils to make your bike run at its best. A good mixture is about 20:1, 25:1, or 15:1 for your first tank to get the engine worn in. You might be looking at these numbers and thinking "What does that even mean??". Well it is actually quite simple. 20:1 simply means that there are 20 parts gas to every 1 part of oil. Mix regular gas with standard 2 cycle oil. If you need help figuring out how to mix the ratio, There is usually a chart on the back of the 2 cycle oil container. If it says "Makes 40:1 in a gallon", simply put two of those into a gallon and you will have 20:1 If it says "Makes 50:1 in a gallon" Simply mix 2 of those in a gallon to get a mixture of 25:1. It is usually not to hard to figure out.
My muffler smokes as I ride, Is this damaging my engine and what can I do about it?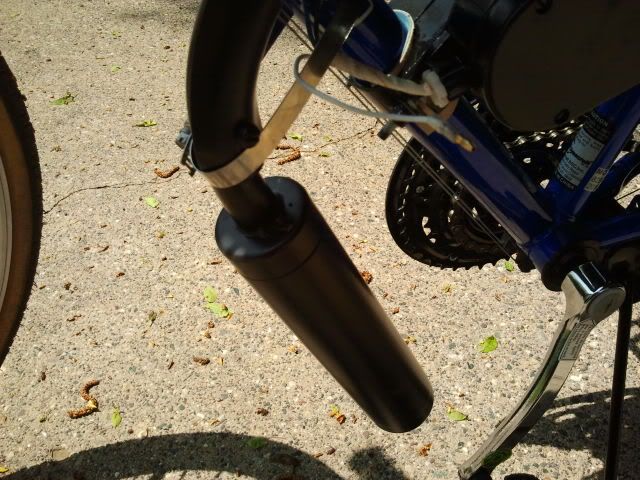 Don't worry, your engine is not being damaged. The smoke from the muffler simply means your oil/gas ratio has to much oil. Smoking is actually a good thing for the first tank or two to run through your engine. It helps get oiled up and running smoothly. To prevent this, add a little unmixed gas to either your mixture or directly into your tank to bring the ratio back to a good number.
I want to transport my motorbike on its side but I'm afraid the gas will spill out as I drive. What can I do to prevent this?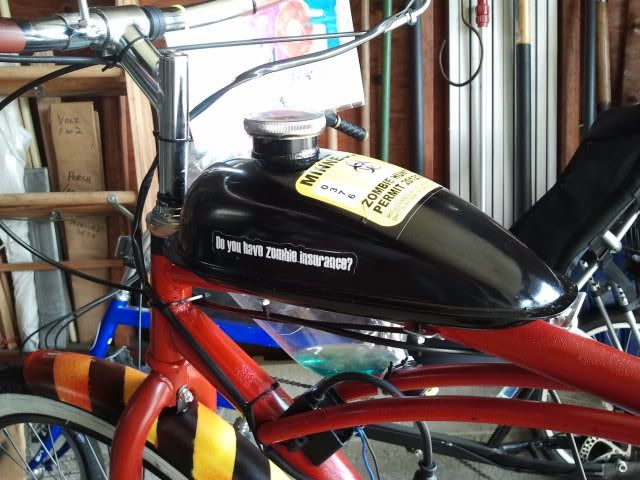 Although we do not recommend this, If you must transport your bike on its side, loosen up the nuts under your tank and simply rotate the tank to an upward position. Make sure your fuel valve is in the off position and the cap is on tight. Even though the caps on the tanks are not an airtight seal, gas has a really hard time getting out if the tank is upright. In the rare event that a little gas does drip out, prepare for this by simply placing a rag, towel, old shirt, etc under the tank area.
How fast can my bike go?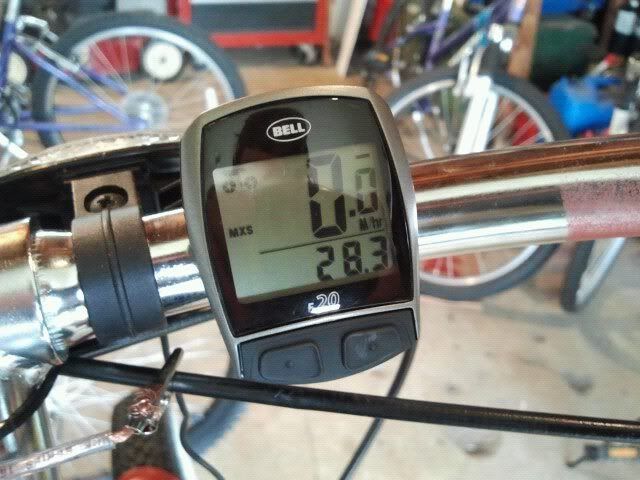 Our cruisers with an 68cc engine and 150lb rider have a top speed of about 25MPH. A 49cc engine or a heavier rider will reduce your top speed while a 80cc engine or a lighter rider could make that number go up. Other things can also affect the top speed including the weight of frame, tire pressure, and wheel size.
How do I brake?
There are two main types of brakes. Most of us are familiar with the handle brakes but on our cruisers, we have coaster brakes. Coaster brakes require you to put backwards pressure on your pedals to stop. This leave your hands free to operate the clutch and throttle. We often get asked if the coaster brakes are enough to stop a motorized bike. Letting go of the throttle and not pulling on your clutch actually slows you down more than you would expect. Once you reach about 10MPH, please remember to pull in your clutch. The combination of the engine slowing itself and the coaster brakes is more than enough to stop you. With coaster brakes, you are also able to put your full weight into braking by simply standing up while hand brakes only pull as tight as they are set. Disk brakes will only work on the front tire because there are sprockets on either side of the rear tire. To prevent damage to the engine and keep it running through the duration of red lights, stop signs, etc.. pull the clutch in when biking any less than about 10MPH.
How long will it take for my bike to be completed from the date of ordering.
Usually no longer than 10days from the date of payment. Holidays, number of orders, and availability of bikes and engines will affect this. Some bikes are ready next day while others may take up to 2 weeks for completion. We thank you for your patience and apologize for any inconvenience. Paying with your credit/debit card or Paypal account allows us to order what you need same day and those bikes usually get done in about a week. Unless we already have the engines or bikes in stock, paying with cash may take longer to get your bike completed.
If I had my own bike, How would I know if it was compatible with an engine?
We have very little requirements, Most bikes will work if they follow a few simple things. We need it to be a male frame (Top Frame Bar) and be an adult bike. It must be an 18" frame or larger. We do not have a preference between single speeds and others. You will still be able to use all your gears while biking. For further information, please send us a picture of your bike or bring it in (by appointment only).
Are they easy to start or operate?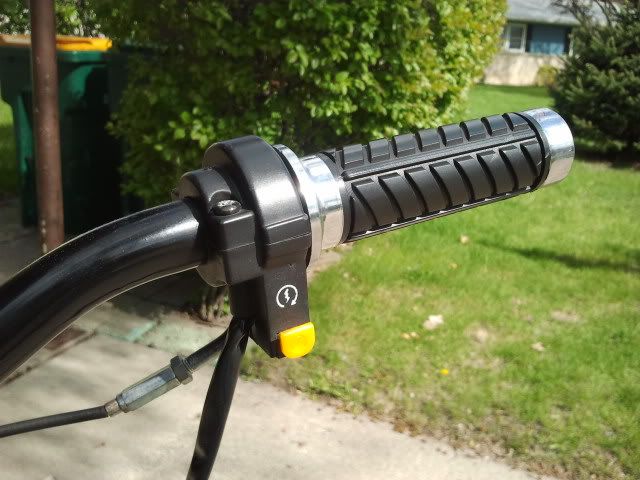 Generally yes. Very few of our customers have ever had trouble using one. After a simple explanation of how they work, about 95% of our customers start it on the first try. Idling and getting going again at a red light or a stop sign can be a little more difficult to get down. It is simple enough to learn within a few minutes of your first ride. Riding them requires only to sit back, relax, and hold the throttle at the speed you desire. You can also start and stop your motorbike without having to get off. No pulling on a cord required!
I want to drain my tank without removing it from my bike or lifting my bike, what is the best way to do it?
To give your tank the most flow through it, remove the gas cap and the fuel line. From here you can either zip-tie, bungee cord, etc an approved fuel container to the frame and let it pour in. If you are a little more careful, after removing the cap and line, lean your bike on its right against either a fence or another stable object and place an approved container below to catch the gas. If you have any tubing that would slip into the tank, you could siphon your gas into a fuel container. Another more common options is to run a tube all the way down to the tank from the fuel valve. Most people do not have a tube that will work for this laying around. Don't be afraid to get creative with it! After you remove the fuel, we recommend replacing it with new fuel.
My engine shifted and my chain snapped, What can I do to prevent this in the future?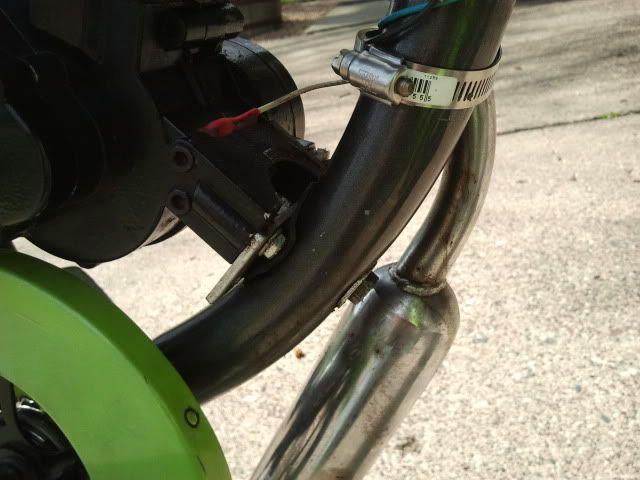 Because most people build them with only what comes out of a box, those people only have 2 side-contact points from the tension on the chain. Even though they run well at first, the truth is that unless you build them the right way, the engine will shift and you will have caused yourself many many problems in the future. The solution to a shifting engine is actually a lot less complicated than you might think. A hose clamp around the top of the muffler and the frame of the bicycle adds a third contact point that pulls the engine in the opposite way of the chain tension. A rubber pad between the clamp and the frame can prevent scratching your paint. If you have brake or gear cables that run down your frame, Make sure to position the clamp under the cables and they should still function as normal if done correctly. This is a safety feature that comes standard on all our bikes. Drilling a hole through the frame shown here is not recommended. This weakens the frame and lowers the resale value of the bike. The cruiser frame shown here is made of steel and not aluminum, drilling through this particular frame will not lead to safety concerns. Drilling through an aluminum frame will cause the frame to bend. Time, higher speeds, and rough terrain can shorten the life of an aluminum frame with a "Center-Bolt" style mounting system.
The wheel on my chain tensioner slips down and i can not get the bolt tight enough to hold it up, What can I do to stop this?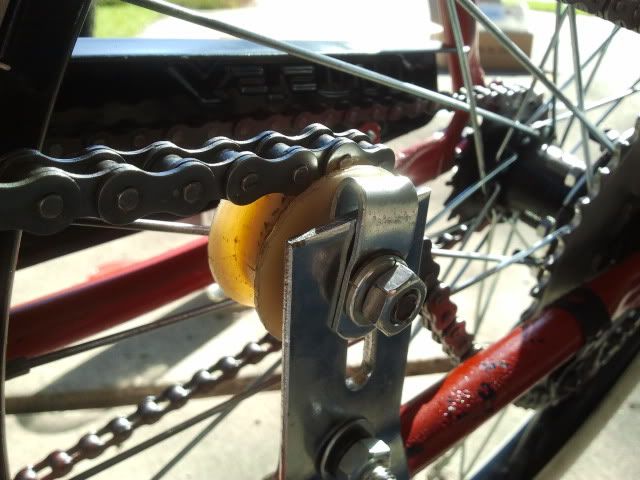 There is a lot of tension on the wheel of the tensioner so it is understandable that the wheel would want to slip down. Understandable, but not acceptable. In order to keep the chain tensioner wheel up, simply add a small piece of band steel over and down both front and back of the tensioner. The bolt of the bearing would slip through a hole in the steel in the front and back of the tensioner body. This stops the bolt and wheel from moving down and helps keep the wheel tight. Without the tensioner, the chain could snap off and cause you problems. This safety feature comes standard on all our bikes.
My bike won't start, what's wrong?
There are quite a few reasons that would prevent your bike from starting. Go through the checklist and see if you can figure it out.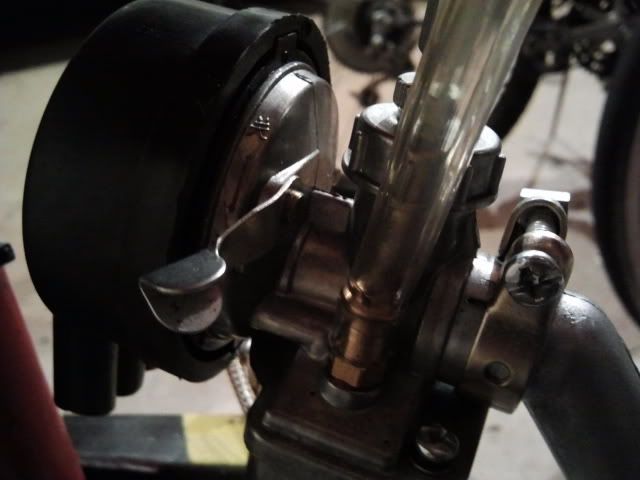 Make sure you have fuel.
Make sure the fuel valve is on.
Adjust your choke to the appropriate position.
Make sure your spark plug wiring is all connected.
Check to see if your CDI box wires are all in place.
Is your carburetor on all the way?
Has your clutch slipped out of place?
There are also a few other less likely reasons your bike could not be starting:
Your spark plug went bad
Your CDI box went bad
You may have other complications in your engine.
If you are still having trouble, feel free to bring it in and let us take a look.
My bike starts but it wants to go by itself without me pulling the throttle, what can I do about this?
The two main reasons for this is either your idle speed is to high or your throttle cable is to tight. There is a small screw in the left side of the carburetor. Use a flathead screwdriver and turn it counter-clockwise until you have it where you need it. If your throttle cable is to tight, you can adjust it at either end by adjusting the screws accordingly. Another less common reason would be that your carburetor is not on as tight as it should be. Please be sure to check this.
I built my own and my bike feels like I'm riding a weed whacker as I reach speeds in excess of 25MPH, what could I have done to prevent this vibration?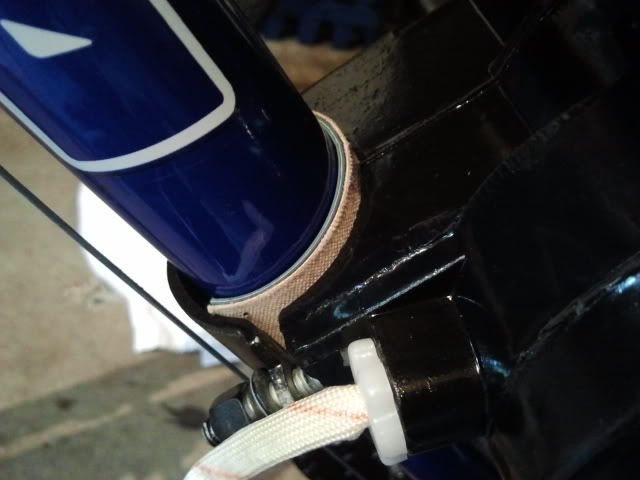 Bicycle frames are not built for the vibrations from the engines. They usually do not have a suspension system capable of counteracting the natural vibration. To counteract this, you should have placed a shock absorbing material between all the contact points and anything that might rattle. This actually helps a lot more than one might think. We use a multi-layered specialized padding that is used in industrial printing machines in our bikes. If you do not have the access or budget for high quality materials, there are other things available you probably have in your garage! A little rubber goes a long way! Nearly any bicycle shop and some automotive places will let you take scrap tubes and tires for free. Cutting these into the appropriate sizes and placing them between the engine and the frame, the fenders and the frame, even between the tank and the frame, will greatly reduce the vibration and even the sound of the bike. Reducing the level of vibration will ultimately make your bike last longer. Don't over-do the padding. Make sure the engine and accessories are tight enough that they won't shift but you still have enough padding that they don't rattle. This is yet another comfort feature that comes standard on all our bikes for no extra cost!
Can I still pedal as a regular bike if I needed or wanted to?
Yes. These engines feature a friction clutch. The brake lever in the picture is actually a clutch lever. This allows you to switch between having the engine in gear and having the engine in neutral. Switching between these options is as simple as pulling this lever. The great thing about the clutch lever, besides the fact that it is always in reach and easy to operate, is that it is able to be locked in place. Shown here is only one example of a locking style. You can pedal your bike without having to hold it in. This feature is helpful for places or situations where having the engine off would be necessary. This is also extremely helpful if you run out of gas or experience mechanical problems. Electric vehicles often do not have neutral and choosing that type of vehicle would leave you stranded in one of those situation. Some of our customers only use the engine to assist on hills or to get them back after getting their exercise in so being able to lock the clutch is a huge help to them.
My chain tensioner keeps pulling out of place, what can I do about this?
There are a few different things you can do. Most of the time you can just tighten the bolts and that should hold it. If you have stripped a bolt, make sure to replace it immediately. If you still can't seem to get it to stay in place while your driving, bolt the tensioner down as tight as you can make it in the place you need it to stay, then simply drill a hole all the way through the tensioner and the frame. Putting a bolt through this will prevent it from moving in any direction. It is extremely important that you have the tensioner exactly where you want it before drilling a hole. There is very little room for error but if you do it right, it will be well worth your trouble.
If you have further questions or want more detailed information about any of the answers, please call us at 612-735-5753 or contact us by email by clicking
Here!